Flamingo Project Structure¶
Overview¶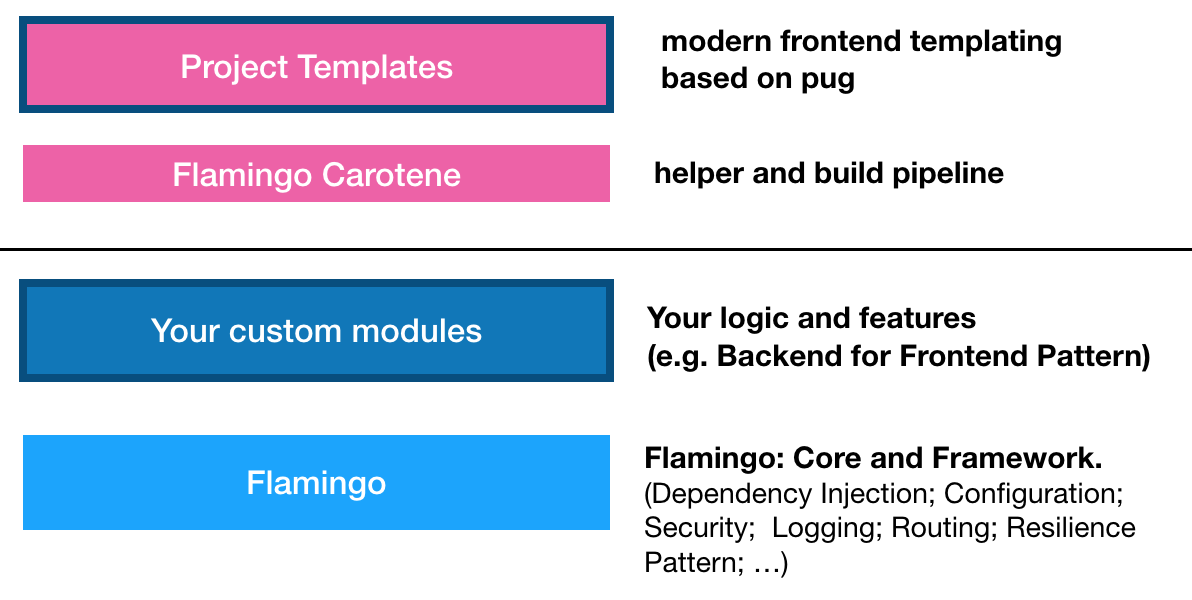 Project structure¶
A typical Flamingo project looks like this:
projectName (Project Root)
│   main.go (The entry for your project)
│   README.md
│   Dockerfile
│   Makefile
│   (Jenkinsfile or other CI config)
│   go.mod
│   go.sum
│
└───config (Your project configuration)
│   └───config.yml (Main project config)
│   └───config_dev.yml (additional configs - e.g. this one is loaded for CONTEXT dev)
│   └───routes.yml (Routing config)
│   └───SUBFOLDER (Optional additional configuration context)
│          └───config.yml (Additional config for this context)       
│   
└───src (Project specific modules live here)
│   └───myModule (a module - see module structure below)
│
└───frontend (Frontend templates - if "flamingo-carotene" is used)
│   └───src (main frontend source / structure by atomic design)
│   │    └───atom (see flamingo-carotene)
│   │    └───molecule
│   │    └───...
│   └───dist (not part of VCS - will have frontend build result)

Projects main.go¶
The Main executable should do:
build the context tree for your project
call the flamingo.App() with the list of needed Flamingo modules
Depending on the activated Flamingo modules in your project, you see a list of all available commands with go run main.go
The main command is "serve" - so to run your project you normally call:
go run main.go serve
Configuration¶
A configuration context allows to run several different Flamingo powered sites in one installation. Typical usecases are localisations and/or specific subsites.
A Context represents:
a list of modules for each context
configurations (that are loaded from the corresponding "config" folder)
a baseurl: This is the first part of the URL - and its telling Flamingo which context should be loaded.
Contexts can be nested in a tree like structure - this allows you to inherit the properties of contexts from parents to children.
Templating¶
Different Template Engines can be used to render content for the Web.
Currently there are two available: "gotemplate" and "pugtemplate":
The "pugtemplate" template engine comes with a standalone frontend build pipeline (based on webpack) that can be used. This is called "flamingo-carotene"
Learn more:
Examples¶
Different example projects are provided in separate repositories.